Geschreven door Rinesa - 8 Minuten leestijd
Strategies for building meaningful professional connections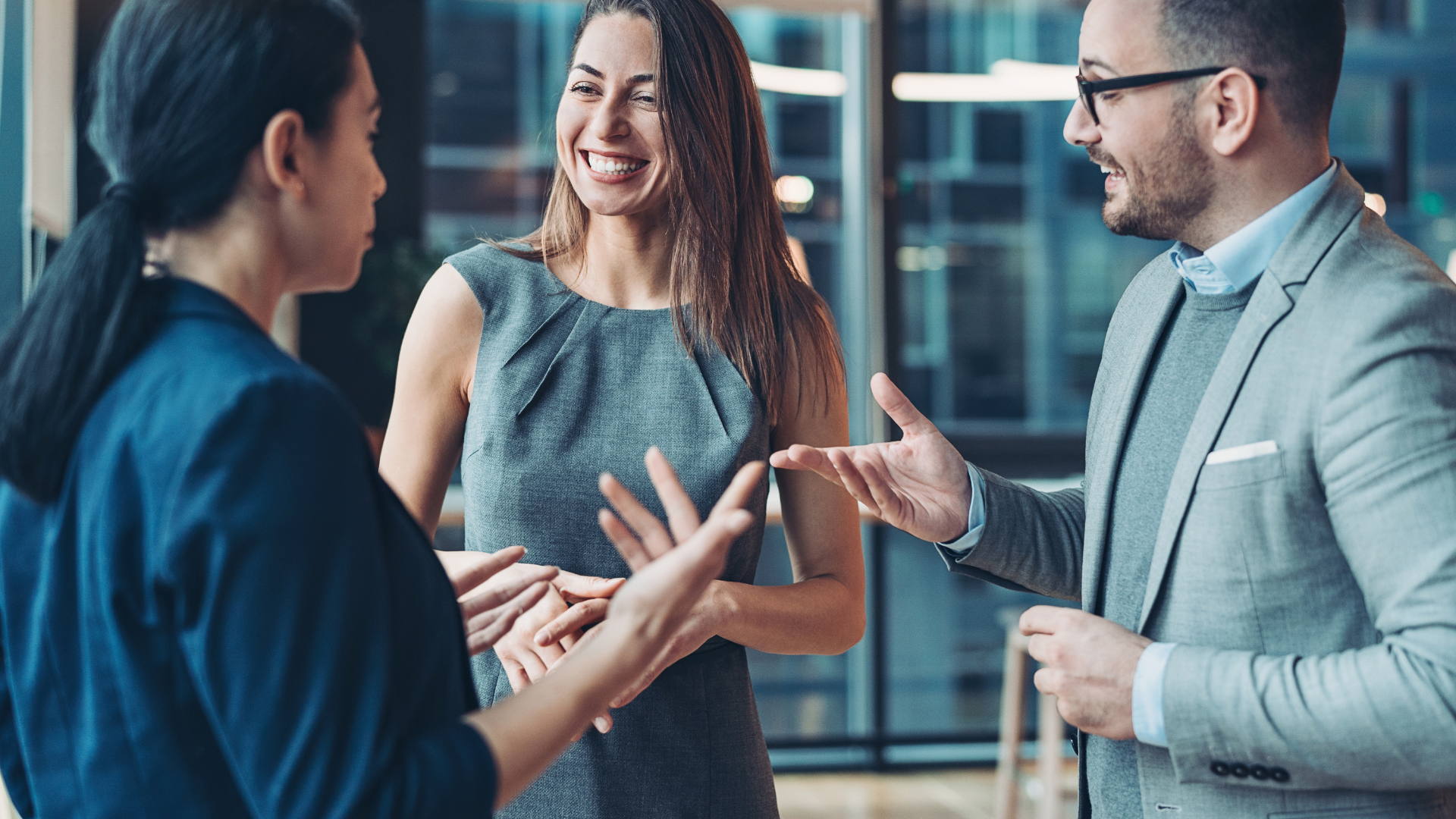 It's probably drummed into you now that networking is an essential part of professional success. But how do you effectively network with people? It's harder than it seems on paper. But if you're seeking a job or looking for new business opportunities, you need to have meaningful connections.
Fortunately, there are interesting tips and strategies to build meaningful professional connections with ease. Here are the eight best tips to network for success, no matter what your goals are.
1. Be a connector
When you think of networking, it's often about putting yourself out there and achieving something for yourself. However, this approach limits you. There's another approach you can try instead – which is to be a connector. This means building meaningful connections in the professional world by leveraging your relationships to create value for others. That is, you introduce people to each other, help establish rapport and trust, and set the stage for future collaboration and new business opportunities. As a connector, it's essential to be strategic about whom you introduce to whom. You want to make sure your introductions are relevant, timely, and beneficial for both parties. For example, if you have a colleague who's looking for a job in a specific industry and you have a friend who works in that industry, you can connect them to each other. This thoughtful approach to networking proves that you're not just trying to gain something from the connection but that you genuinely care about helping others. This will also keep you 'top of mind' in your network, and they'll reach out to you whenever they can return the favour.
2. Attend a workshop or class
Joining a college class or an online course gives you the opportunity to learn new skills and knowledge from industry experts. They offer insights and ideas that can help you achieve success in your career. Even attending a workshop or webinar related to your industry is an excellent way to build your skills. But also to network with like-minded individuals who share similar interests and goals.  Doing a course, workshop, webinar, or class means that you'll get access to top minds in a specific field. And you'll connect with professionals relevant to your industry. You can learn from them, gain valuable insights, and form lasting relationships that may lead to new business opportunities. You'll also establish your reputation and grow your social capital in the industry. And finally, attending workshops and classes allows you to keep an eye on your competition and stay ahead by knowing the latest in technology and thought leadership.
3. Join a mastermind group
Mastermind groups are powerful tools for networking and professional development. They are small groups of like-minded individuals who meet regularly to discuss challenges, set goals, and support each other. They're different from typical networking events because they limit how many people can join and their meetings happen regularly – often once a month. By being part of a mastermind group, you can learn from the experiences of others and gain valuable insights into different industries and professions. Moreover, these groups allow you to share your own knowledge and expertise, which, in turn, can help other members achieve their own goals. Most importantly, joining a mastermind group provides you with accountability and support.Joining a mastermind group is a very specific and often rewarding way to grow and build professional connections. Many successful people join mastermind groups as a way to discuss issues they can't anywhere else and to grow to the position they want. The other members of the group can help you expand your network, leading to new opportunities for collaboration and business growth.
4. Create a personal brand
Building a personal brand can seem daunting, but the rewards of standing out in a crowded marketplace are well worth the effort. One effective way to start developing your brand is by establishing a strong online presence. To do this, share your insights and unique perspective on social media or through a blog and watch your audience grow. By consistently demonstrating your expertise and knowledge, you'll be able to attract individuals who share your interests and values. There are many ways that you can leverage online platforms for your personal brand building and networking. And the results can be spectacular. Here are some interesting social networking statistics you should know: 
87% of B2B buyers have a favourable impression of a salesperson introduced through their professional network. 84% of executives use contacts and information from social networks in their purchase process
31% of B2B professionals believe social selling helps them build deeper relationships with clients
Sales reps with 5000+ LinkedIn connections meet or surpass sales quotas 98% of the time
There's so much you can do if you leverage social media the right way to build your personal brand. With consistent effort, you'll establish yourself as a thought leader in your industry and find opportunities you never thought possible.
5. Volunteer to speak at events
If you're ready to play a more active and leading role in networking activities, then speaking will be the right step for you. Volunteering to speak at events related to your industry or interests is an excellent way to make a name for yourself. You not only get to share your expertise and knowledge with a larger audience, but you also draw people to talk to you. If you have something interesting or groundbreaking to say, then you should take the plunge and sign up to speak at the next event related to your industry or interests. You can then leverage this experience and share it on social media or your website to build a positive reputation.
6. Invite experts to share their opinion for a content piece
People love to be approached for their insights and ideas. By inviting experts to share their opinion for a Q&A post, webinar, or blog post, you'll get a positive response from them. And the process will help you build relationships and add value and credibility to the content being produced. Reach out to established professionals in your industry with a prepared set of questions. Also, approach the conversation with a clear understanding of what you hope to achieve, and use a respectful and thoughtful tone. Be specific about the topic you'd like them to discuss and the format of the content piece, whether it be an interview, guest post, or quote. Be sure to offer something of value in return, such as exposure or networking opportunities. By working with experts, you'll provide your audience with diverse perspectives and expert insights and boost your content profile. This type of content creation process will lead to more opportunities for collaboration and networking too. And, so, this strategy should be considered a valuable tool in any professional's networking toolkit.
7. Follow up with a handwritten note or small gift
In a world where most communication is digital, taking the time to send a personalised gesture can leave a lasting impression. Consider sending a handwritten note or a thoughtful gift to someone you have recently met, thanking them for their time or congratulating them on a recent achievement. Such actions stand out. And can go a long way towards building and strengthening relationships. And even if a physical note or souvenir seems impractical, then go the extra mile and do something that leaves your personal imprint even with a digital gesture. For example, instead of a regular email, how about sending an ecard? Or, instead of your usual computer signature, how about a scan of your handwritten signature? Even the use of an emoji in the right place can make all the difference. The point is to be more personalised and to make an extra effort. This will pay off when people remember you and come to you with business.
8. Attend events outside of your industry
Attending events outside of your industry can provide a unique opportunity to broaden your perspective and make connections with individuals you may not have otherwise met. These events could include cultural festivals, sporting events, art exhibits, or even charity functions. By attending such events, you can demonstrate your capacity for well-roundedness and enhance your personal brand. This could open up new and unexpected career paths and provide opportunities to connect with people you may not have met otherwise. Attending events outside of your industry can also help you develop skills that can translate to your professional life.  For example, attending a cultural festival could help you better understand and appreciate diverse cultures. It could also improve your social and interpersonal skills. All of which will benefit you when working with clients or colleagues from different backgrounds. Also, participating in community events will help you build stronger relationships with local businesses and organisations. Getting involved in this way will foster goodwill towards your organisation.
Conclusion
Building meaningful, professional connections requires effort and persistence. And by following the tips and strategies outlined above, you can build a strong network that can help you achieve your professional goals.
Remember that networking is not only about what you can gain but also about what you can give to others. By focusing on building relationships and helping others, you can create a powerful network that will serve you well throughout your career.
Are you looking for these meaningful connections with the purpose of finding a job in the Life Science industry? Let experts at QTC Recruitment help you with finding the organisation that suits your aspirations and expertise. Check out how you can be helped here.

---
Also published on Readwrite.com
---
Want to stay informed about current Life Science and recruitment news on a regular base? Then register here for free.