Geschreven door manon - 5 Minuten leestijd
Life Sciences employees are ready for flexibility, are you?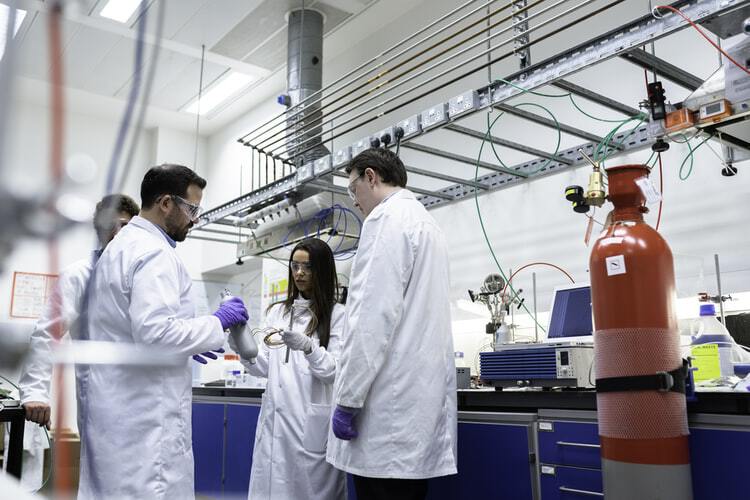 Thanks to widespread COVID-19 vaccine availability, life sciences leaders throughout the U.S. are inviting more employees back to onsite work. Yet few anticipate their corporate offices will serve quite the same role as in pre-pandemic times. Though many employees appreciated not having a daily rush-hour commute, they also missed the social energy and collaboration that comes with in-person engagement. As such, many forward-looking life sciences, biopharmaceutical and medical device firms are considering new ways to build flexibility into their workplace models. For example, some plan to have a set of office employees come into the corporate office three days a week, empowering them to work in a remote location of their choosing on the remaining days. This not only provides the flexibility many employees are craving; it also helps facilitate social distancing in the meantime until more people are vaccinated. To maintain competitive advantage and stay ahead in the war for top talent, you must be able to provide the right amount and mix of spaces for heads-down work as well as group collaboration. And you must come up with innovative new ways to bridge the gap between employees working from the office, home, their favorite coffee shop — or anywhere in between. Beyond physical space configuration and connective technology, reimagining a more flexible workplace also demands new emphasis on health and wellness. Ensuring the corporate workplace is clean, COVID-safe and clearly designed to foster wellbeing will give office employees the fulfilling, empowering workplace experiences they need to do their best work as in-person experiences become more viable.
Establish a safe and healthy return
Whether your employees are coming back for two or three days a week or every day, health and wellness is a top priority. In fact our recent research indicates that three out of four employees expect their employer to support their health and wellbeing at work. This includes physical as well as mental health, an especially timely consideration given nearly 70% of workers say the COVID-19 pandemic has been the most stressful time of their careers and they would prioritize work-life balance post-pandemic over a higher salary. The good news is that rigorous safety standards are already baked into the culture of life sciences, pharmaceutical and medical device companies. Many research and development (R&D) and production facilities maintained operations throughout the pandemic, giving their corporate leadership teams insights on how to mitigate infection risks. And most technical facility workers have long been well-versed in robust sanitation standards, fine-tuned air handling and strict occupancy controls — making it easier to carry over such practices into the office environment than it may be in other sectors. Workplace assessments are a great way to support employee health and identify areas of improvement. The assessment will benchmark current workplace policies, wellbeing offerings and facility conditions against leading safety, health and wellbeing standards. Focus on areas that matter most to the human experience at work, including indoor air and water quality, cleaning protocol and wellbeing features. Whatever you discover that needs improvement in this phase will also help you prioritize capital investments. For example, based on the results of your assessment, you may decide to offer mental health resources onsite or create healthier food options. Or, it may be appropriate to incorporate touchless door systems and upgrade air handling systems. Simple improvements like adding a living wall of plants or reducing clutter in the office can also help reduce stress and improve wellbeing. As with any major workplace initiative, a clear communications and effective change management plan should accompany new health and safety programs. Employees will want to know they can trust their office to be as safe as possible, and they will also need to understand new health-related protocols. Include HR leaders in this effort to help assure that policies are fair and inclusive. Once your new health and wellness program is in place, monitor employee sentiment and behavior over time to fine-tune the approach.
Put human experience first—wherever work happens
Ensuring a healthy, safe workplace is critical to inspiring employees to come back to the office. But to secure long-term employee satisfaction, it's important also to determine how to better support new employee preferences about when and where they work. Utilizing employee sentiment surveys or focus groups can help you and your HR team learn more about employee views on remote work, as well as what they find most useful, fulfilling or empowering when working at the office. According to JLL research, 70% of employees support more flexible work programs, including a mix of in-person and remote work. Moving forward offices will be seen as the center of the workplace ecosystem – one that enables collaboration and innovation, reinforces culture, provides a social outlet and enables their professional growth. Data-driven space planning can help you maintain the right mix of individual workspaces and areas for collaboration and socialization, as well as support social distancing. By leveraging real-time data and analytics tools, you will be able to track occupancy patterns and refresh office layouts to meet new employee preferences. Many employees also want a quiet workplace outside their homes. This means ensuring adequate space for quiet, heads-down work in the office. Some companies are also partnering with nearby coworking space providers or are considering small satellite offices or short-term leased space to give employees other remote working options. Connective technology will be essential to facilitate work from anywhere, bridging the gap between people working at home or in person. It's also vital to collaborate with other departments, including HR, facility management and IT, to support a more fluid workforce.
A new era in life sciences workplace planning
Biopharmaceutical office employees have helped their organizations bring to market important therapies during a global health crisis. As we progress through a COVID-changed world, corporate leaders can bring that same level of creativity and commitment to workplace strategy. By taking time now to understand employee needs and preferences, you can create a workplace program that honors new values around health, wellbeing and flexibility. In turn, you'll help spark more of the innovation and productivity that is the heart of the life sciences industry. Is your organisation in need of new Life Sciences professionals in a post-COVID world where employees' priorities have shifted? QTC Recruitment can help your organisation find the best fitting Life Science specialists that suit your organisation's workplace environment and expectations. Keen to know how we work? Then click
here
. Lees meer actueel
nieuws
.
---
Also published on Us.jill.com
---
Want to stay informed about current Life Science and recruitment news on a regular base? Then register
here
for free.