Geschreven door Rinesa - 8 Minuten leestijd
How to map out your career plan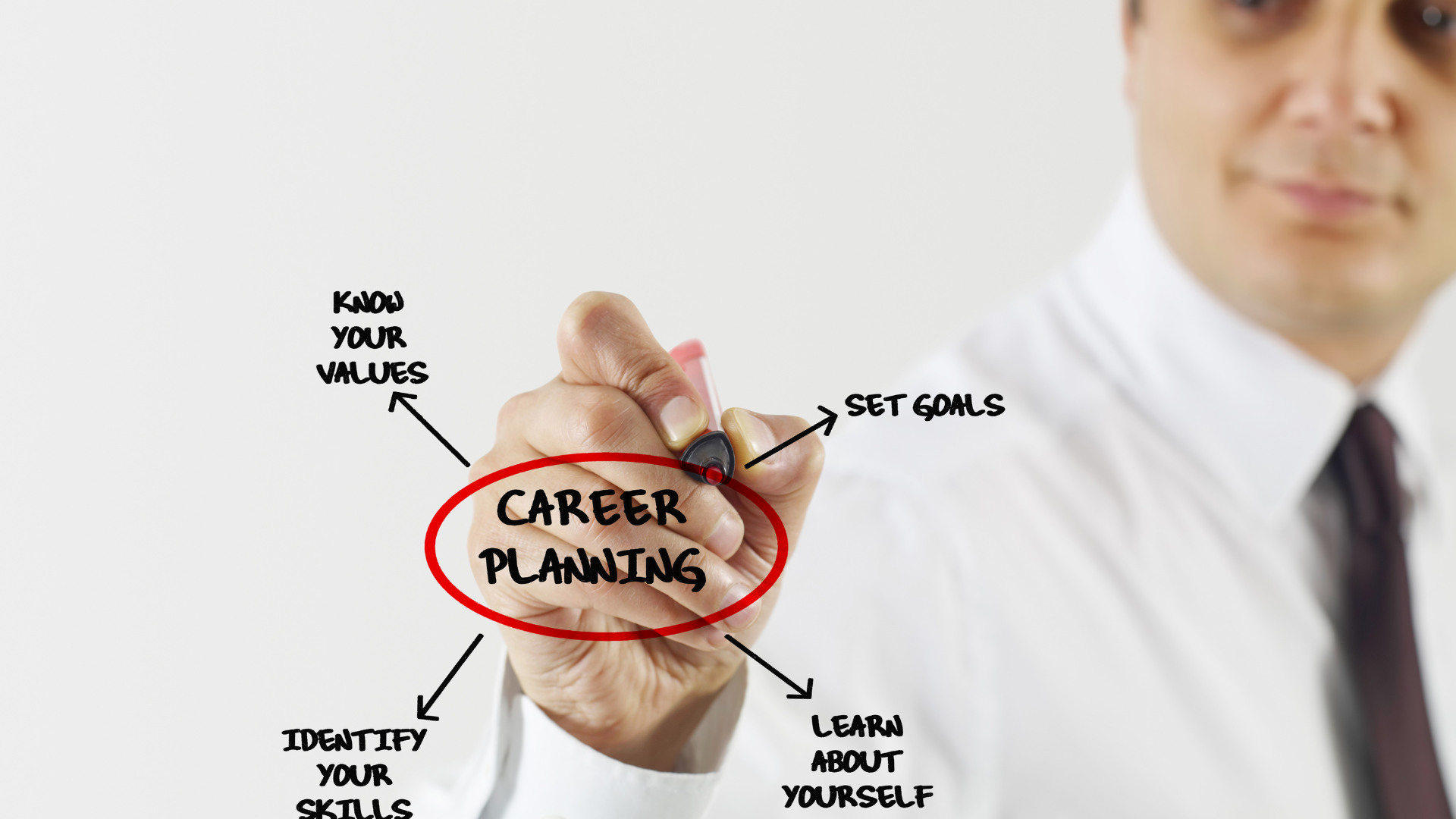 Having multiple different jobs is common in the modern era. However, if you are thinking of starting and developing a career in one field, you should prioritise planning out your future career in that industry. It will take you much longer to get where you want to go if you haven't planned how to achieve your goals. That's why many career experts recommend taking the time to create a formal career plan to guide you through your professional life.
Before designing your career plan, you should first consider the benefits and drawbacks of moving from multiple varied jobs to a single profession. It is easy to pick up temporary shifts or freelance/consulting work for different companies or individuals. However, picking one field that you are planning to stay in for a period of time means understanding what you want to do in that industry and why you are attracted to that type of work.
Why map your career path
Getting up every day during the week and going to a full-time permanent job is not easy. Not everyone can do it. It's important to map your career path to promote personal motivation and provide a pathway to understand what you want to do and how you will get there.
"Regardless of how long you've been in the workforce, it's important to take an active role in shaping the future of your career," said Amanda Augustine, career advice expert at TopResume, a career services provider. "If you're not managing your career path, someone might do it for you — and you might not like where it leads."
This doesn't mean you have to have everything figured out and follow your "map" exactly. The purpose of a career plan isn't to give yourself concrete, step-by-step instructions but to establish a general direction toward your own personal career success.
"The beauty of a career plan is that it will help you explore opportunities and various career paths so you can confidently determine a long-term career goal for yourself and then take steps to achieve it," Augustine said.
This is especially true for recent or soon-to-be college graduates, who may end up taking a different path than they originally intended anyway. Many students end up changing their majors during their undergraduate career or finding a job outside their field of study after graduation, said Bob Labombard, former CEO of GradStaff (now Avenica), a career matchmaking company for entry-level positions.
"It's almost impossible for most college students to map out a detailed plan leading to a specific job or career area," Labombard told Business News Daily. "Our advice for college students is to develop and identify their … skills, abilities and experiences that employers will find compelling. The benefit of this approach is that it opens up many potential career fields, not just one."
Once you know your specific job or career area, you can begin to understand the needed skills, education/certifications and experience you need so that you can reach your ultimate career goals.
How to map your career path
Mapping your career path is important as it allows you to know where you are now and what you want to be. Understanding where you are now is easy; knowing the next step might seem a little difficult to answer right now. Research the possibilities and assess what industry matches your skill set.
If you work well in academia, for example, maybe a master's degree in your field might be the next step. If you delegate and inspire others, upper management could be the right pathway. Once you know your strengths, know what skills you need to fill in any gaps — if you are someone who likes to work with their hands but don't have any experience, for instance, maybe an apprenticeship or internship is appropriate. If your path requires further education, conduct research to learn what degrees or certifications you need to reach your ultimate career goals.

Remember that a map is not an instructional guide. There's plenty of room to explore within and outside the boundaries of your plan. It is about the journey more so than getting to the destination quickly. After all, progress is rarely linear.
When you're creating your career plan, use the step-by-step guide to map your career path:
Identify a target role in a preferred industry.
Knowing what you want to do can be challenging, so consider what you aim to achieve. Simply saying "I want to work in finance" won't work. Knowing how the industry operates and what role you want to play is important. For instance, someone may want to be a teacher but doesn't know that the various types of schools (public, private, charter, career/technical) have different cultures and it is important to account for that factor.
If you are unsure, that is OK. You can make a list of mentors as well as contacts from your network, relevant membership associations and any professional development opportunities you've explored. Talk to them about their work and what they like/don't enjoy about their industry. This insight can be invaluable.
"[Job seekers] should develop and use their personal networks to augment their job searches," Labombard added. "In addition to alumni, professors, coaches and other mentors, look for help from parents, parents of friends, co-workers and others to help you get a foot in the door. Informational interviews are an excellent way to get more information about employers."
Determine education and/or experience requirements.
Because higher education is expensive, it is important to know exactly what requirements are needed for the role you are seeking. If all you need is an Occupational Safety and Health Administration certification, for example, you can find many online courses instead of attending school.
If you need to develop soft skills, such as critical thinking, communication, interpersonal relations, visit workshops that can provide you with that opportunity. Internships should count as experience but be sure you can speak knowledgeably about the work you've done during that time when interviewing with hiring managers.
Have a goal and a timeline.
You don't need to write, "I should be working for Company X three years from now." But you should have a few general benchmarks to help you monitor your progress. For example, you might say you want to move up to the next level in your chosen field within the next three to five years or save up enough money to start your own business within 10 years.
"Break down your plan into more digestible steps and action items you can work towards on a monthly or quarterly basis so the process does not seem overwhelming," Augustine said.
"Having a deadline to see if your plan will be worthy of the 24/7 efforts you're putting in is helpful," said Suki Kramer, founder of suki skincare.
Did you know? There are plenty of free analog and digital goal tracking tools for you and your team to keep track of your career.
Revisit and adjust career path periodically.
As mentioned, your plan may change. After all, maps are for exploring. Since progress isn't linear you may come up against obstacles. Sometimes an industry faces a serious downturn from factors outside your control, such as an economic recession.
Revisiting your career path every six months is important so you can take stock of where you are and whether there still remains a pathway for where you want to be. Once you've charted a path, you need to commit to following it, even if that path changes over time. Kramer emphasised the importance of trusting your own instincts about your career, which means you need to be willing to pivot if something feels off.
"For some, that means learning to hear them, because our instincts are the first millisecond feeling we get about everything," she said. "Go against your instincts, [and] you will pay a steep price."
She also noted that there will be obstacles along the way and things will not always go according to your plan. But if you want to achieve your goals, you can't give up when you feel discouraged.
"Every obstacle is an opportunity to overcome a challenge that will have a ripple effect throughout your life," Kramer said. "You need gumption, perseverance, determination, tenacity and a steely focus on your goal. If you do the necessary work, take the risks, face your fears and make the sacrifices you need to, [you will] get there."
Things to keep in mind in your career
If you are in the middle of your career path, keep these additional tips in mind:
Pay attention to trends: Stay on top of what is at the forefront of your industry. Knowing the trends makes you an expert and a valuable source.
Stay abreast of technology: Advances in technology mean that within six months new software might make established ones obsolete. Keeping up-to-date on what is happening can impact your career path in a positive way.
Be passionate: This might be a little cliched, but if you feel passionate about your career, you will have the drive to continue pursuing it even during difficult or slow days.
Network with other professionals: Networking with other professionals is a mutually beneficial decision. It is important to learn from industry experts outside your own individual silo. But networking is also about trying to help others succeed, so look for opportunities to provide tips, advice and contacts to those you meet.
Be flexible: Sometimes economic factors make your industry recede instead of growing. Relying on your strengths and passion is important as you navigate through periods of low growth. Of course, it is also fine to pivot and adjust your career path when necessary.
It's all about the journey
Knowing your strengths and your destination is as important as pinpointing where you are starting from and what weaknesses you have. Remember the most important part of the map you create is the journey. You will learn a lot as you progress through your career.
Giving back to others helps future generations' career maps become more detailed and clear and will help ensure the success of your industry. Navigating your career path is not always easy but it is an interesting ride.